So, you're interested in investing in real estate in Austin, Texas? Welcome to the party – you have a lot of company. There are many great reasons for that, of course. Austin has provided almost unbelievable returns for investors over the last 20 years, with barely a hiccup. This is especially true of appreciation, which I will get into, but across the board, it has been a great place to put your money.
Being ranked at the top of "Best places to live," "Best job market," "Best place for startups," "Best place to be single," lists, consistently, for decades has led a lot of people to want to move here. The business-friendly economic climate of Texas, and specifically the high-quality employee base in Austin, has led corporations to want to relocate their headquarters here. The local economy is diverse enough to withstand industry-specific downturns, and it is growing fast enough that even the Great Recession of 2008 was barely a speed bump for the Austin market. Don't believe me? Check out this chart of average sales price for the entire Austin MSA, inclusive of the Great Recession of 2008: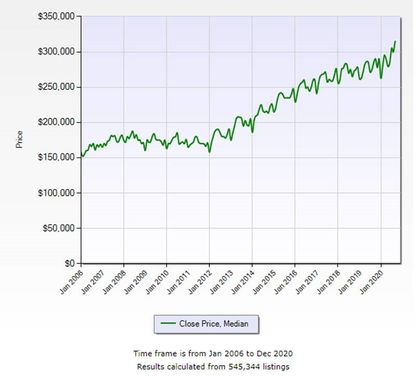 ;
As you can see, over the last few years, Austin has gotten even hotter. And due to a number of factors – Covid-19, critically low inventory, historically low interest rates, and people continuing to move and invest here – the competition is fierce. Take a look at this chart that covers the first three quarters of 2020; the average days to sell is plummeting and prices are rising:
<<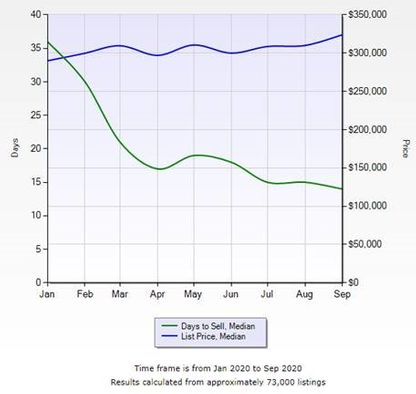 ;
Things are moving very quickly in Austin, that's why you need a trusted agent on your side. Jump in while you can! I can provide data in addition to my personal take on any specific neighborhood or zip code that you may be interested in, just shoot me an email.
Of course, nothing is ever 100% "strawberries and ice cream," so what are some challenges that Austin is facing? In non-pandemic times, the traffic here is probably the #1 issue that impacts growth. Like most big cities, getting to the city core during rush hour is frustrating and time-consuming if you're in the suburbs. Affordability is a big issue now, too. As of July 2020, the average cost of a home (Single-Family Home, Condo or Townhome) in the Austin city limits was $423,000. Up 11% YoY. To give you a feeling for the growth and appreciation in Austin, in that same report for December of 2004 the average home was $155,000! People with average incomes are being pushed out of the city center – into the suburbs.
This has been difficult news for tenants, but great news for landlords! Nearly 300% growth in 15 years with all of the additional benefits that real estate investing brings – tax advantages, security of holding real property, etc. Obviously, some neighborhoods have done even better and some a little worse – but overall it has been a great ride. Can it possibly continue?? My answer, in short, is yes. Yes, it can. The fundamental things that are leading more than 100 people per day to move to the area are still the same. Just in the past year or so, Apple has announced it is investing $1B+ in creating a second headquarters in North Austin. Amazon is building a 4M+ Square Foot logistics hub near Northeast Austin. Tesla is building an assembly plant for the CyberTruck in Southeast Austin, and a huge number of other businesses have announced growth here, or complete headquarters relocations.
So, if we assume that the 11th largest city in the USA will continue its march towards the top 10 with continued growth, what are some ways that investors can make money in this market? Like any investment, one needs to know their objective, budget and time horizon in order to pick the right strategy – the one that is most likely to deliver – at the lowest risk. Below I will offer my thoughts for investors in a few situations, but I would love to discuss your individual situation with you – just reach out to me at +1-512-923-7300.
Lower budget, buy and hold
As I mentioned earlier, the average home in Austin is priced over $400,000. For a conventional loan at 20% down, that means you'll need over $80,000 in cash to purchase an average home here. That's a pretty high hurdle for most folks who are trying to get started in a traditional Single-Family Home (SFH) rental. If you're looking for a home under, say, $200,000, then (as of this writing) there are exactly four SFHs built in the last 30 years that are within an hour drive to the State Capitol building at rush hour (according to INRIX). These homes are obviously far away from the city center. One solid rule of thumb for our MSA in Austin is this: For appreciation you want to be closer to the city; for cash flow, you will have to look to the suburbs. Another general rule is that the closer you get to the city, the higher the cost of entry. So an investor with a smaller budget can get in on the action, produce positive cash-flow, but one shouldn't expect the same appreciation as one who can invest closer-in. One can always look at partnering to develop more options, too.
Higher budget, buy and hold
For an investor with deeper pockets, there are of course more opportunities. As previously stated, there are a lot of investors who are looking for deals in Austin. Many of them have access to cash and leverage, and they are looking for long-term appreciation. They have to be – with so much money chasing so few listings – there just aren't a lot of opportunities in MLS to find a deal close to the city. For someone like myself, who is taking the long view – counting on appreciation and eventual cash flow, when rents catch up – one potential approach is to put more money down up front so that you are cash-flow neutral (+/-) to start. So, let's say you have $100,000 to invest and your goal is mainly appreciation and your capital can be patient waiting for cash flow. Instead of watching for $500,000 homes, look for $400,000-$450,000. The extra money up-front will reduce your monthly cash flow obligations and bring you to neutral with current rents. As always there are a myriad of approaches – BRRR, partnering, forced-appreciation, etc – but this is a tried and true method for growing wealth while showing an operating loss on your taxes.
Flipping in Austin
Like the previous two examples, the field here is crowded. A lot of people trying to make money here, chasing deals. If you are local and want to be your own GC, there is more opportunity to make money of course, as your costs are lower. Also, you can make decent money doing cosmetic flips if you can find homes that are in gentrifying areas that haven't kept pace with the surrounding ones. Look for homes that haven't changed hands in 10+ years that are priced well, relative to the area nearby. If your (or your partners') pockets are deeper, then there are opportunities to make *very* good money in areas like Tarrytown and Allandale, where lots are larger and you can add square footage and / or a second floor and really force appreciation. Some of the challenges with doing larger flips in Austin are the ability to carry financing for extended periods as well as the well-documented difficulty of dealing with the City of Austin permitting and code-enforcement departments. You really need to know what you are doing when you delve into this – impervious cover limits, protected trees, HOAs and deed-restrictions can take what looks like a great deal in another market and turn it into a disaster in Austin.
My final thought for this report is that there is a lot of competition from other investors and from individuals/families that are moving here and can afford to buy. But, there are also opportunities to make good money if you are smart, have a great team around you, and either have access to capital or you can be patient (or both!). If you would like to explore your options, please do reach out to me – I love to talk about Austin and I love to talk about real estate investing! Give me a call on the number below.